November 5, 12:05-1pm
Global Perspectives on Organ Donation: Gift or Obligation?
msgr_ethics.jpg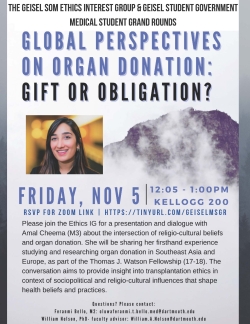 Medical Student Grand Rounds and Geisel SOM's Ethics Interest Group will be collaborating this month to bring a presentation by our very own, Amal Cheema '23. We are looking forward to Amal sharing her thoughtful, passionate, and insightful research work with us in this interactive presentation. The focus will be the intersection of religio-cultural beliefs and organ donation, with an aim of providing insight into transplantation ethics in the context of sociopolitical and religio-cultural influences that shape health beliefs and practices.
Event is both in-person in Kellogg 200 and virtual via Zoom.
RSVP here for the Zoom link.