April 7, 2021 at 12:15pm
Ethics Interest Group Discussion
cummings_brian.png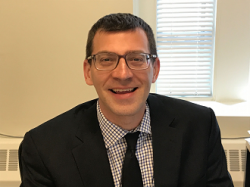 Dr. Brian Cummings: Assistant Professor of Pediatrics
Attending, Pediatric Critical Care Medicine
Chair, Pediatric Ethics Committee
Medical Director and Vice Chair, MGHfCMassachusetts General Hospital for Children
"The Tragic Case of Little Charlie Gard: Lessons from Bioethics in the Media."
Here's a link from the BBC.  https://www.bbc.com/news/health-40554462
In case you missed this event, watch the Zoom recording here:
https://dartmouth.zoom.us/rec/share/27iMmLHHkrnZSl98AuzoHBg1h3QLBSkcM86yJ4Uslh7UosXtvgjJ9ObIi6pxYx2_.1s4EUT1Kl7BgEqf7
Meeting ID: 939 2822 3419
Passcode: 833279
Wednesday, April 7, 2021 at 12:15pm
Discussion with Dr. Cummings and Geisel and Ethics Institute students of the "The Tragic Case of Little Charlie Gard: Lessons from Bioethics in the Media"
Brian Cummings, MD
Dr. Brian Cummings is the chair of the Pediatric Ethics Committee at Mass General Hospital for Children.
Brian M. Cummings, MD, is a pediatric intensivist, as well medical director and vice chair for the Department of Pediatrics at Massachusetts General Hospital, and the executive director for the Clinical Process Improvement Leadership Program (CPIP) at Mass General Brigham. He received his undergraduate degree with honors at Boston College with a senior thesis on physician assisted suicide. He received his medical degree from University of Connecticut and completed his residency and fellowship training at MGH. A graduate of the HMS ethics certificate program, he leads the pediatric ethics committee at MGH. Brian's area of interests are pediatric, professional and organizational ethics and he has published various articles on pediatric ethical issues, quality and safety, and professional development.